Open the Season: BCO Plays the Classics
October 28, 2018 @ 4:00 pm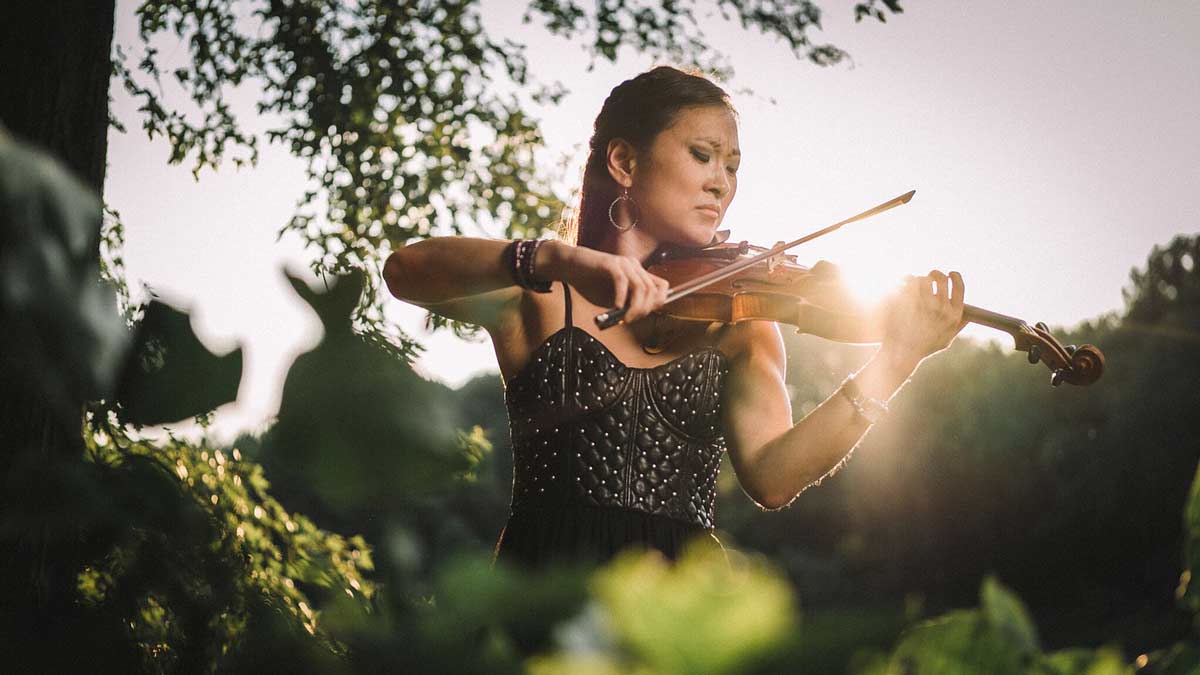 3:00pm: Conductors chat
3:30pm: Pre-Concert showcase by Bravo Strings of Montrose
4:00pm: Concert begins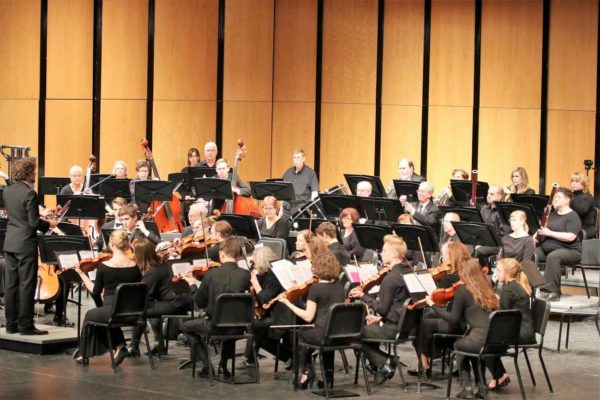 Join us as we kick off the 2018-2019 Concert Season under the direction of Ernesto Estigarribia. Enjoy works of Brahms, Mozart and Tchaikovsky.
BCO's principal cellist, Dr. Andrew Burgdorf, and violinist, Ms. Erika Blanco, will take the stage in a performance of Brahms Double Concerto for Violin and Cello. Written as a peace offering to an estranged friend and colleague, Brahms created a wonderful masterpiece that showcases the cello and violin uniquely intertwined with the orchestra. Brahms explores fully the colors and beauty of the violin and cello individually and collectively with the orchestra, moving the listener through different musical scenes and emotions.
Opening Night! will also feature BCO soloist Yvonne Rammel in a performance of Adagio non troppo, the second movement of the Mozart Flute Concerto in G. A prolific artist, Austrian composer Wolfgang A. Mozart created a string of operas, concertos, symphonies and sonatas that profoundly shaped classical music. While initially not recognized as a fan of the flute, Mozart wrote one of his most famous operas, The Magic Flute, highlighting the instrument as well as this flute concerto that is a standard in flute repertoire.
The concert will close with a performance of Tchaikovsky's Symphony No. 5. This symphony is filled with extreme musical contrasts and shocking climaxes that will take the audience on a musical journey they won't soon forget. From the opening movement exploring fate and darkness, to the finale that closes the symphony with a triumphant breakthrough, ending in a frenzied, joyful abandon and a great climax that tricks many listeners into thinking the performance is complete long before the final note.
A Southerner from the coast of South Carolina by birthright and Midwesterner by recent transplant, holds a bachelor's degree in violin performance from Vanderbilt University's Blair School of Music and a master's degree in violin performance and Suzuki pedagogy from the University of Minnesota. Her teachers include the late Stephen Panchaud, assistant concertmaster of the Chattanooga Symphony and Opera, former Blair String Quartet first violinist Christian Teal, and Suzuki pioneer Mark Bjork.  Erika has performed in masterclasses with violinists Alexander Kerr, Professor of Violin at Indiana University and Concertmaster of the Dallas Symphony Orchestra; Soh-Hyun Park Altino, Professor of Violin at the University of Memphis; and Leanne League, Professor of Violin at the University of Wisconsin-Whitewater.
Erika is a founding member and first violinist of Lux String Quartet and is a long-time participant in the Oskaloosa Music Festival, directed by Lux's very own Benjamin Davis. At the 2013 festival, she soloed Vivaldi's Summer concerto with the chamber orchestra. She's played with the Charleston Symphony Orchestra, the Chattanooga Symphony and Opera, and the Mankato Symphony, and is currently a first violinist in the Quad City Symphony Orchestra under Mark Russell Smith.
Concurrently with her chamber and orchestral playing, Erika performs with Minneapolis-based salsa band Charanga Tropical, the first North American group ever to be invited to Cuba's International Danzón Festival in Havana in 2015. While there, Charanga Tropical also recorded a live album in EGREM Studios, site of the 1999 film Buena Vista Social Club.
Erika teaches students in her home studio and with Augsburg University Suzuki Talent Education. She has completed, in addition to her long-term training with Mark Bjork, Suzuki training units with Carol Smith, Ronda Cole, Brian Lewis, Kimberly Meier-Sims, Mary Cay Neal, Kathy Wood, Nancy Jackson, Doris Preucil, and Nancy Lokken. She staunchly believes that every child can achieve a high level of ability given a nurturing environment and sensitive teaching. In July 2017 she joined the string faculty at Lutheran Summer Music Program, hosted in Valparaiso, Indiana.
Though trained classically, Erika enjoys jammin', stompin', and shakin' in any setting: homegrown folk, fiddlin', rockin'-and-a-rollin', salsa, and the new music scene. Relishing the opportunity to meet different people, she feels privileged to have her passion and her career blended together. Professionally, her ambition is to nurture an appreciation for beauty, collaboration, and the learning process, and personally, to be spurred on by great musicians and colleagues and to participate in the transcendental efficacy of music.
Andrew first heard the Brahms' Double Concerto when he was eight and immediately fell in love with the brilliant violin and cello arpeggios cascading up and down as if one instrument intermeshed with the full orchestra in lush, breathtaking harmony. This became his life long endeavor as he started cello at age 10 to "someday" perform it now nearly 50 years later. He hopes the audience will share the rapture of this unbelievably unparalleled composition which he is convinced is the pinnacle of Western Music.
Andy grew up in an artistic family in Bloomington and after receiving his medical degree from the University of Minnesota and family practice residency, moved to Buffalo with his wife, Sherilyn. The couple and their children, Amanda and Michael, have played in BCO on various instruments. Dr. Burgdorf currently leads eight primary care clinics for Allina Health focusing on the whole person … of which community is fundamental and what better than music to bring us together celebrating each person's unique differences instead of dividing us apart?!
He studied cello under Eric Wahlin, Tanya Remenikova, and Tony Ross. He has served as BCO's principal cellist for the last 22 years and performed the Dvorak Cello Concerto seven years ago. Even more challenging will be the Brahms' Double which combines concerto soloist demands with precise chamber music precision in collaboration where no one musician is dominant but the shared entire ensemble creates a totally unfathomable epic.
He plays Eric Wahlin's 1795 Italian Finnochi cello matched by an Albert Nurnberger bow that together create delicate melodic harmonies and powerful bold double stops encompassing an incredible four octaves on the instrument.
Sit back (or perhaps on the edge of your chair!) and enjoy the riveting Brahms' Double Violin and Cello Concerto performed by BCO joined by guest violinist, Erika Blanco, under the baton of Ernesto Estigarribia on Saturday, October 27, 2018.
Yvonne grew up in a musical family and is the second born of seven children.  In her childhood home, you could almost always hear someone practicing piano, singing, or playing another instrument.  Yvonne started learning the flute in fourth grade and fell in love with the sound of her instrument.   She auditioned for All-State band as a junior and earned the opportunity to play in the group as a senior.  She was given the John Philip Sousa award, and you can still find her name on the plaque at Waldorf-Pemberton High School.  Yvonne enjoys performing and has had many opportunities to play for church, weddings, and many other functions.
Yvonne studied flute at Minnesota State University, St. Cloud State University, and MacPhail Center for Music.  She became a member of the Minnesota Music Teacher Association in 2006 and earned her accreditation to teach private piano and flute lessons three years later.  Yvonne has always had a passion for music and is involved in leading music at church with her vocal, piano, and flute skills.  She also has a private studio teaching piano and flute lessons.  She enjoys seeing the progress of her students musically, and some have also pursued careers in music. She has played flute with the Buffalo Community Orchestra since 1998, which has been a rewarding way to use her talent and grow musically.
When Yvonne is not playing or teaching music, you can find her spending time with her family, cooking in the kitchen, or outside in her garden.