Conductor Hisham Bravo Groover
Hisham Bravo Groover is serving in his first season as Music Director and Conductor of the Buffalo Community Orchestra. In addition, he is pursuing his doctorate degree in orchestral conducting from the University of Minnesota, studying under Mark Russell Smith. At the university, Hisham serves as co-director of the university's campus orchestras.
Before moving to Minneapolis, Hisham lived in Denver, CO, where he held the positions of Associate Conductor of the Denver Philharmonic Orchestra, Assistant Conductor of the Arapahoe Philharmonic, and Assistant Conductor of the Lamont Symphony Orchestra and Opera Theater. While living in Colorado, he also received his artist diploma in orchestral conducting from the Lamont School of Music at the University of Denver. Prior to Colorado, Hisham graduated with a master's degree in orchestral conducting from The University of Iowa.
As an educator, Hisham is deeply passionate about working with students. He has served as Adjunct Instructor and Conductor at Ripon College (Wisconsin) as well as at Arapahoe Community College (Colorado). Furthermore, he was invited to conduct the 2018 Colorado State University-Pueblo Honors Orchestra in Pueblo, CO.
Aside from conducting, Hisham is also a violinist. Throughout his education, he has studied with several pedagogues including Mark Rush, Michel Boris Zaitzeff, and Ching-Yi Lin. Hisham holds a master's degree in violin pedagogy from Western Kentucky University and a bachelor's degree in violin performance from Loyola University in New Orleans. Additional violin studies have taken him to the New Zealand School of Music and the summer orchestra festivals at Indiana University's Jacobs School of Music.
Hisham's principal conducting mentors include Mark Russell Smith, Leonid Grin, Lawrence Golan, and William LaRue Jones.
As the current Music Director of the Buffalo Community Orchestra, Hisham is proud to serve its musicians and community.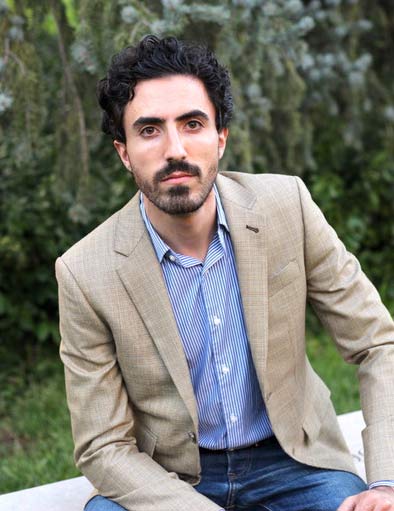 Buffalo Community Orchestra Board:
President: Michael Walsh
Vice President: Jolyn Halvorson
Secretary: Joelle Strandquist
Treasurer: Jeff Burns
Gretchen Katzenberger
Sarah Kremer
Kendall Kubasch
Veronica Lilly
Mary Ellen Lundsten
Yvonne Rammel
William Tregaskis

Concertmaster Emily Scicchitano
Emily Scicchitano is a violinist from Syracuse, New York and began studying violin at age 8 in her elementary school orchestra. She studied privately from middle school through high school with Shelby Dems and Edgar Tumajyan, a violinist of Symphoria. Following high school, she earned a bachelor's degree in Violin Performance from Ithaca College under the mentorship of Calvin Wiersma.
Emily has performed in many masterclasses for world-renowned performers and teachers such as Stefan Jackiw, Benjamin Baker, The Israeli Chamber Project, Cuarteto Latinoamericano, and more. She has performed throughout Europe and the United States as a chamber and orchestral musician, performing at venues such as Carnegie Hall and Kodak Hall. In addition to her performing career, Emily maintains a private violin and viola studio, teaching students of all ages and abilities. Emily currently resides in Minnesota and enjoys cooking, coffee, and dogs.
Violin I

Peter Anderson
Sarah Braith
Carmen Hanson
Kari Hartman GM
Sarah Kremer
Diana Mills
Emily Scicchitano+
Dawn Weis

Violin II

Michelle Anderson
David Carillo*
Sophia Cruz
Jessica Kellogg
Mary Ellen Lundsten
Ellie Stonecipher
Donald Strand
Joelle Strandquist§
Victoria Van Beusekom

Viola

Zachary Armstrong *
Madison Teichert

Cello

Andrew Burgdorf *
Jeffrey Burns £
Linda Emmel ∞
Hunter Simard
Erin Walsh
Flute

Lee Ann Carlsted (piccolo)
Yvonne Rammel
Kristi Wagner *

Oboe

Abigail Amundson
Michael Jeannot *
Clarinet

Jennifer Domka
Gretchen Katzenberger *
William Tregaskis

Trombone

Ryan Anselment *
Tim Domka
Jake Pavia

Trumpet

Kyle Anderson
Michael Dailey *
Ken Ross
Bassoon

Mike Hilden
Heather Kurtz
Larry Marquette *

Percussion

Marshall Carlsted *
Kendell Kubasch $
Merijo Strandquist
Claudia Staut

French Horn

Jolyn Halvorson *2
Thomas Maresh#
Kara Stonecipher
Michael Walsh 1
+ Concertmaster
* Section Principal
£ Treasurer
GM General Manager
$ Finance/Budget Chair
∞ Stage Decorations
1 BCO President
2 BCO Vice President
§ Secretary
# Absent 2021-2022