Conductor Hisham Bravo Groover
Hisham Bravo Groover is currently in his fifth season as Music Director and Conductor of the Buffalo Community Orchestra. In addition, he is also the Artistic Director and Principal Conductor of the St. Cloud Symphony Orchestra and the Philharmonic Conductor for the Greater Twin Cities Youth Symphonies (GTCYS). This September (2023), Hisham is scheduled to compete in the first International Ferenc Fricsay Conducting Competition in Szeged, Hungary.
Previously, Hisham has been a semi-finalist in the 2022 Princess Astrid International Music Competition in Trondheim, Norway. He has served as Assistant Conductor of the University of Minnesota Symphony Orchestra and Opera Theatre, as Associate Conductor of the Denver Philharmonic Orchestra, Assistant Conductor of the Arapahoe Philharmonic, Assistant Conductor of the Lamont Symphony Orchestra and Opera Theatre, and as co-conductor for the University of Iowa Chamber Orchestra.
As an educator, Hisham has worked as co-director of the Campus Orchestras at the University of Minnesota, as Adjunct Instructor at St. Cloud State University, as Adjunct Instructor and Conductor at Ripon College, Conductor at Arapahoe Community College, and was the conductor for the 2018 Colorado State University-Pueblo Honors Orchestra.
Aside from conducting, Hisham is also a violinist and has studied with several pedagogues, including Mark Rush, Michel Boris Zaitzeff, and Ching-Yi Lin. Additional violin studies have taken him to the New Zealand School of Music and to the summer orchestra festivals at Indiana University's Jacobs School of Music.
Hisham's principal conducting mentors are Mark Russell Smith, Leonid Grin, and William LaRue Jones.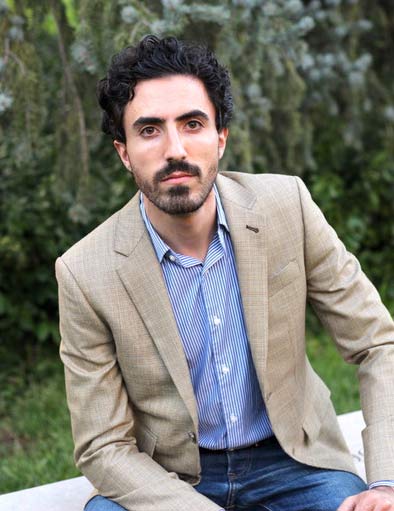 Buffalo Community Orchestra Board:
President: Michael Walsh
Vice President: Jolyn Halvorson
Secretary: Joelle Strandquist
Treasurer: Jeff Burns
Sarah Kremer
Kendall Kubasch
Sarah Libdblom
Mary Ellen Lundsten
George Morris
Yvonne Rammel
Kara Stonecipher
William Tregaskis
Concertmaster Will Samorey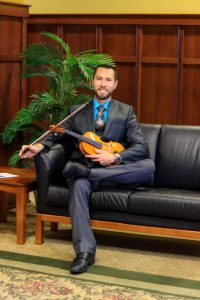 Noted for his stylistic versatility and ability to command an audience with his musical storytelling, Will Samorey received his B.A in Music with honors in Violin Performance from the University of Western Ontario under the tutelage of Annette-Barbara Vogel. Other teachers include Won-Bin Yim, Yehonatan Berick, Vasile Beluska, Stacey Woolley, Jonathan Sturm, Naha Greenholtz, the Corigliano Quartet, and Jupiter Quartet. While at UWO, he held various positions with the school's symphony orchestra, opera, and musical productions including all principal violin positions and concertmaster.
Professionally, Will has performed in all concentrations from chamber music, to pit orchestras, community, and symphony orchestras. Will has tenure with the Quad Cities Symphony Orchestra and Sioux City Symphony Orchestra, is the concertmaster of the Golden Valley Orchestra, and is a frequent substitute with symphonies across Iowa and Minnesota. Will enjoys giving solo and chamber music recitals in the greater Twin Cities area, and his hometown of Des Moines. Will has the distinction of being the 2nd violinist to perform the Butterfly Lover's Concerto in Minnesota with the Golden Valley Orchestra.
Violin I

Peter Anderson
Sarah Braith
Kari Hartman GM
Sarah Kremer
Diana Mills
Will Samorey+
Aaron Staryszak
Dawn Weis
Kylie Yncierto

Violin II

Michelle Anderson
Jessica Kellogg
Mary Ellen Lundsten
Donald Strand
Joelle Strandquist§
Barbara Tollefsen
Victoria Van Beusekom

Viola

Sara Anderson
Zachary Armstrong *
John Bowen
Sarah Lindblom
Julia Rotter
Addison Simard

Cello

Andrew Burgdorf *
Jeffrey Burns £
Linda Emmel ∞
Mitchell Friesz
Theresa Green
Carmen Hanson
Monique Ried
Hunter Simard
String Bass

Bill Healy
George Morris
Josh Sanford

Flute

Lee Ann Carlsted (piccolo)
Yvonne Rammel
Kristi Wagner *

Oboe

Abigail Amundson
Michael Jeannot *
Clarinet

Patti Albright
Jennifer Domka*
William Tregaskis

Trombone

Ryan Anselment *
Justin Frerich
Hannah Porter-Gilman

Trumpet

Kyle Anderson
Michael Dailey *
Bassoon

Heather Kurtz
Larry Marquette *

Percussion

Marshall Carlsted *
Kendell Kubasch $
Merijo Strandquist
Tony Reid

French Horn

Ann Frerich
Jolyn Halvorson *2
Kara Stonecipher
Michael Walsh 1
+ Concertmaster
* Section Principal
£ Treasurer
GM General Manager
$ Finance/Budget Chair
∞ Stage Decorations
1 BCO President
2 BCO Vice President
§ Secretary