Conductor Ernesto Estigarribia
Hailed for his "expert direction" by the Fanfare magazine, Ernesto Estigarribia is in his third season as the Music Director and Conductor of the Buffalo Community Orchestra. Born and raised in Asunción, Paraguay, Mr. Estigarribia has performed extensively in North and South America, the Caribbean, and Europe both as a violist and conductor. With a passion for working with young musicians, he also serves as Artistic Director of the Southeastern Minnesota Youth Orchestras (SEMYO) and was recently appointed as the Greater Twin Cities Youth Symphonies' (GTCYS) Sinfonia East conductor. Mr. Estigarribia is working towards a doctoral degree in Orchestral Conducting, studying with Mark Russell Smith at the University of Minnesota where he is a recipient of the James Sample fellowship. At the University, he co-directs Campus Orchestras and serves as Assistant Conductor for the University Symphony Orchestra and the University Opera Theater. He also serves as Music Director and Conductor of the Buffalo Community Orchestra.
His festival appearances include YOA Orchestra of the Americas, Britten-Pears Young Artist Programme (England), Festival de Música de Santa Catarina (Brazil), Pienza Music Festival (Italy), International Festival Week of St. Petersburg Conservatory (Russia), and Academia Internacional Teatro del Lago (Chile). In 2016, Ernesto conducted the first recording of the "Concertino for Viola" by Brazilian composer Joao Ripper with violist Korey Konkol. Recent conducting appearances include performances with the Rochester Symphony Orchestra, Gianni Schicchi and Idomeneo with the University of Minnesota Opera Theater, Orquesta Sinfónica del Congreso Nacional (Paraguay) as the first Paraguayan guest conductor to appear in the orchestra's main subscription series.
Upcoming conducting engagements include Orquesta del Centro del Conocimiento (Argentina) and his return to the Orquesta Sinfónica del Congreso (Paraguay).
In his spare time, Estigarribia enjoys performing chamber music with his colleagues and expanding his vegan cooking repertoire.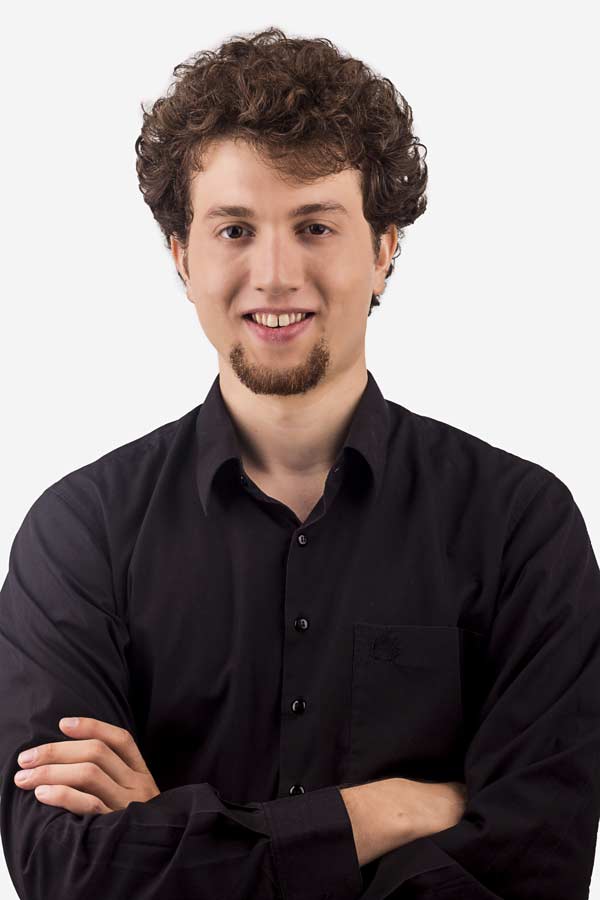 Buffalo Community Orchestra Board:
President: William Tregaskis
Vice President: Jolyn Halvorson
Secretary: Joelle Strandquist
Treasurer: Jeff Burns
Gretchen Katzenberger
Kendall Kubasch
Veronica Lilly
Mary Ellen Lundsten
Thomas Maresh
Yvonne Rammel
Michael Walsh
Concertmaster Lindsey Bordner
Lindsey Bordner, from St. Paul, has Bachelors and Masters degrees from the University of Minnesota and the University of Michigan respectively, in Violin Performance and Chamber Music. With her string quartet Thalia Strings, she has traveled the world performing on cruise ships. In addition to playing with the BCO she enjoys teaching, playing chamber music, and performing with her award-winning bluegrass band "No Man's String Band".
Violin I

Lindsey Bordner +
Sarah Braith
Pepper Clemmensen
Kari Hartman GM
Sarah Kremer
Veronica Lilly
Leah Nibbe
Julie Rathmanner
Eithan Warne

Violin II

Michelle Anderson
Jess Dahlstrom
Marilyn Groth
Mary Ellen Lundsten
James Lyke
Aja Majkrzak *
Sofia Morin
Hailey Nelson
Donald Strand
Joelle Strandquist
Victoria Van Beusekom
Dawn Weis

Viola

Zachary Armstrong *
Frank Emerick
Patrick Stonecipher
Greta Swanson

Cello

Andrew Burgdorf *
Jeffrey Burns £
Linda Emmel ∞
Eljiah Estes
Jack Stonecipher
Erin Walsh
String Bass

Charlie Emerick
Jonah Forsyth
Noah Zimmerman

Flute

Lee Ann Carlsted (piccolo)
Yvonne Rammel
Kristi Wagner *

Oboe

Abigail Amundson
Michael Jeannot *
Clarinet

Gretchen Katzenberger *
William Tregaskis 1

Trombone

Ryan Anselment *
Ken Ross
Adam Steinbach

Trumpet

Michael Dailey *
Jackie Kuhns
Bassoon

Heather Kurtz
Larry Marquette *

Percussion

Laura Boillat
Marshall Carlsted *
Kendell Kubasch $
Merijo Strandquist
Stephanie Friesz

French Horn

Jolyn Halvorson *2
Thomas Maresh
Kara Stonecipher
Michael Walsh
+ Concertmaster
* Section Principal
£ Treasurer
GM General Manager
$ Finance/Budget Chair
∞ Stage Decorations
1 BCO President
2 BCO Vice President
§ Secretary