BCO welcomes new concertmaster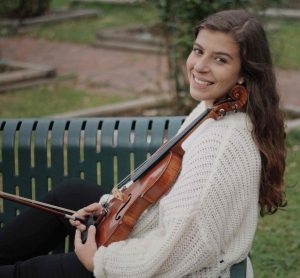 Emily is a violinist from Syracuse, New York and began studying violin at age 8 in her elementary school orchestra. She studied privately from middle school through high school with Shelby Dems and Edgar Tumajyan, a violinist of Symphoria. Following high school, she earned a Bachelor's Degree in Violin Performance from Ithaca College under the mentorship of Calvin Wiersma.
Emily has performed in many masterclasses for world-renowned performers and teachers such as Stefan Jackiw, Benjamin Baker, The Israeli Chamber Project, Cuarteto Latinoamericano, and more. She has performed throughout Europe and the United States as a chamber and orchestral musician, performing at venues such as Carnegie Hall and Kodak Hall. In addition to her performing career, Emily maintains a private violin and viola studio, teaching students of all ages and abilities. Emily currently resides in Minnesota and enjoys cooking, coffee, and dogs.